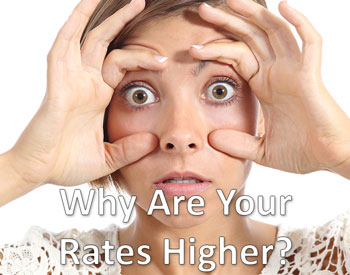 Affordable Senior Home Care
Finding affordable Senior Home Care involves more that finding the lowest caregiver rate. In Arizona, some companies strive to be more affordable by offering clients more value, while others exploit a corporate employment tax and insurance loop hole.
Independent Contractor Agencies profit by avoiding standard employer costs through placing independent contractors (ICs) in your home. Even though, their ICs sign agreements that they are not employees, these contracts will be nullified if the facts present otherwise. Often, these companies will ask you to interview their caregivers.  When you hire a specific caregiver, this strenghtens their claim that you are the caregiver's employer.  If you are declared the legal employer, then you could be responsible for taxes and on the job injury claims.
Should I Select The Lowest Caregiver Rates?
Sometimes families facing the need for home care try to simplify selecting a home care agency by ignoring important frequently asked questions and focus solely on caregiver rates. They will inquire about rates from a few companies and select the cheapest.
"Slam-dunk decision? Not necessarily. Misclassifying an employee as an independent contractor may invite tax penalties. . . . If an employee suffers an injury on the job for which there was no workers' compensation insurance you may also face liability if the injured employee was misclassified as an independent contractor. Sometimes, the person you thought you had hired as an independent contractor decides it benefits him financially to be classified as an employee and will sue. . . . It is important to understand the legal distinctions."
Please consult with your attorney and/or accountant if you have home employment questions.  The Arizona based Wright Law Firm provides a detailed explanation of independent contractors, sometimes referred to as direct care workers.
Affordable Senior Home Care Without Compromise
Adultcare Assistance Homecare operates at a higher standard with every caregiver an employee. We achieved quality care with an intense selection process including multiple background checks, drug screenings and a substantial investment in training. Our caregivers have regular supervisory visits and monthly paid training to ensure that the higher standards of Adultcare Assistance are followed. We truly have a caring team environment with over half of our caregivers being employees for over five years. Additionally, Adultcare Assistance assumes all employer liabilities and we do not allow these costs to become your family's obligation.  Established in 1996, Adultcare Assistance has been recognized and awarded multiple time for providing superior care.  Although, not the lowest, Adultcare Assistance caregiver rates provide increased value, safety and comfort for our clients and their families.