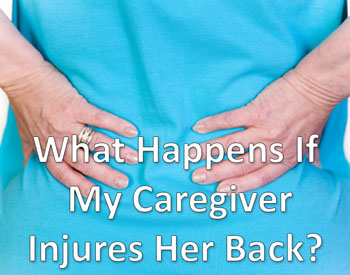 Insist on Adult Home Care Workers Compensation
Workers' compensation, also known as workmans' comp, is a state-mandated insurance program that provides compensation to employees who suffer job-related injuries and illnesses.  This is an important question because not all in-home care companies pay Workers' Compensation.  If an Adultcare Assistance Caregiver claims a work-related injury then our workers' compensation insurance covers the investigation and payment of that claim.  Our clients do NOT have to purchase additional workers' compensation insurance or a special home owner insurance policy.  More importantly, Adultcare Assistance Homecare clients do not have the legal employer-related liabilities that they could experience with other adult home care agencies.
Adult Home Care Injury Fraud
Most caregivers are very honest.  Only a small number scam work-related injuries for personal profit, but the damage they cause can cost unprotected clients a fortune.  Families concerned about on the job injury fraud should insist that their adult home care company provides workers compensation to all their caregivers.
Adultcare Assistance Homecare has a zero tolerance for employee fraud and will cooperate fully with law enforcement agencies and our insurance providers.
Will My Home Owners Policy Cover Work-Related Injuries?
If you select Adultcare Assistance Homecare, then you do not need to additional insurance for work related injuries because this is covered as benefit with all of our services. Some adult home care agencies do not include this coverage with their caregiver services because they do not claim their caregivers as employees for tax and insurance purposes. An uncovered injury can cost a family thousands of dollars in medical bills and lost wages. The Special Needs Alliance provides more comprehensive legal information in the The Pitfalls of Caregiver Employment: Paying, Withholding, and Reporting Requirements.