The cost of senior care options can vary based on your needs and priorities.  Knowing what is important to you and your family is helpful in finding the best senior care options.  Unlike other senior care options, Adultcare Assistance Homecare stands out because our home care management team has a geriatric care management background. Our focus is to provide you with the right information and professional recommendations so you and your family can make informed decisions.
COST OF SENIOR CARE OPTIONS IN ARIZONA
WHAT ARE YOUR CAREGIVER RATES?
One of the most frequent questions we hear is "What are your caregiver rates per hour?" This is a difficult question to answer without having an understanding of your needs. Determining if our services match your needs is typically best if done during a phone or home assessment. Many families do not understand that Home Care Agencies have the option of paying employment taxes and workers compensation. If the agency chooses not to cover these expenses then the burden/risk become the responsibility of the client and their family. Arizona does NOT license home care and there is a wide variety of services offered.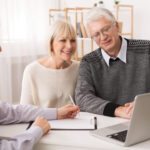 [gravityform id="20″ title="false" description="false" ajax="true" /]
Mileage: When a caregiver uses their own vehicle to transport the client, the standard rate of 75 cents per mile will be charged. When a caregiver uses the client's vehicle for transport and running client's errands, there is no additional expense. We recommend the client review their auto policy to ensure that caregivers are covered drivers.
Holidays: Holiday caregiver rate is time-and-a-half. Holidays include New Year's Day, Easter, Memorial Day, Fourth of July, Labor Day, Thanksgiving, Christmas Eve, Christmas & New Year's Eve.
Immediate Staffing:  Immediate staffing requests occasionally require additional charges.
*Direct Payment Discount: Direct payments are electronic payments that reduce both banking and administrative costs. As a thank you to our clients that use direct payment we offer a discounted rate.
All Rates Are Subject To Change Without Notice.
WHY CHOOSE ADULTCARE ASSISTANCE HOMECARE?