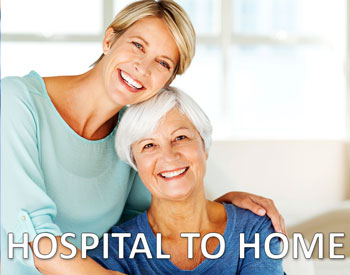 Hospitalization of yourself or a loved one can be overwhelming.  The details of moving from the hospital to home is probably not on your mind during the admission process.  Patients and their families feel a sense of relief and/or stress when they hear their doctor say, "You will be discharged today or tomorrow.  Do you have a ride home?"  A ride home can sometimes be difficult because the timing may not coincide with your family's schedule.
Planning your return home can be great start to the recovery process.  Some questions that you may want to ask include:
Will there be fresh groceries when you arrive home?
Who will collect personal belongs and discharge orders?
Have the doctors or nurses recommended items or groceries that need to be picked up?
Are there any home safety concerns with increased sedation or decreased mobility?
Do any prescriptions need to be picked up from the pharmacy?
Adultcare Assistance Caregivers are trained to help reduce hospital readmissions and aid in full recovery.  The care they provide includes but is not limited to:
Help at the Hospital
Sit with the client in the hospital (if needed)
Prepare the client for leaving the hospital
Gather personal belongings from the hospital
Collect discharge orders
Home Sweet Home
Provide transportation home
Transfer patient from the automobile
Perform a safety check of the home environment
Spend Personalized time with the client
Gentle Medication Reminders
Go the Extra Mile
Pick-up prescriptions from the pharmacy
Shop for groceries and replace expired food
Help reduce the risk of hospital readmission