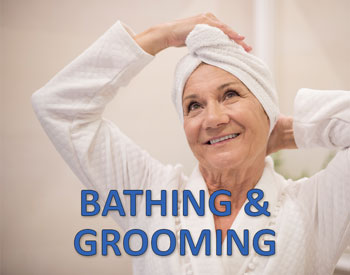 A senior shower visit can make both bathing and grooming a very pleasant part of the day. After a bath or shower visit, seniors feel good, clean and relaxed. Additionally, the cleanliness of a shower visit makes seniors feel better with dignity.
Unfortunately, due to the multitude of unforgiving and slippery surfaces, bathrooms are very hazardous for seniors. More than one in three seniors over age 65 fall each year, and the National Institute on Aging says 80 percent of these falls are in the bathroom.  Learn more about Elderly Fall Prevention.
Recommendations for senior bathing include:
Grab Bars: Some people will reach for a towel rack to help with bathroom balance when a grab bar is not installed. Towel racks are not intended to hold more than a few pounds and can be a dangerous alternative for the elderly. Grab bars should be installed within easy reach to help with getting in and out of the bath. Bolted grab bars are preferred to suction cups bars.
Shower Chair or Transfer Bench: A good shower chair provides stability for seniors that have difficulty balancing in the shower. Non-slip grips on the chair legs will help prevent the chair from accidentally sliding. In some situations, a bathtub transfer bench is a better option because it helps with getting in and out of the shower.
Non-Slip Mats: A simple and often overlooked safety non-slip mat is important both in the shower and in the bathroom. Outside of the shower ensure that tile floors around the sink and toilet have non-slip rugs and inside the shower place a non-slip mat. Protect seniors from the most common falls by reducing slippery surfaces.
Shower Caddy: A shower caddy hangs over the shower head and holds shampoo, conditioner and soap. This reduces the need to reach and bend since the toiletry essentials are not below the knees or out of the way. Some seniors prefer to install mounted shampoo and bath gel dispensers to keep from having pick up shampoo bottles and soap bars that can slip out of hands during a shower.
Ask for help: If you need a little help with bathing yourself or someone else, then consider having a professional caregiver from Adultcare Assistance Homecare come to your home for an elderly hygiene visit. They can make bathing both easier and safer.
In addition to the shower visit, our caregivers can assist with personal hygiene. Senior bathing & grooming assistance can include shaving, mouth care, hair care and dressing.
Often when seniors and families are considering shower visits they have many questions about home care.  Find answers to the most Frequently Asked Questions.