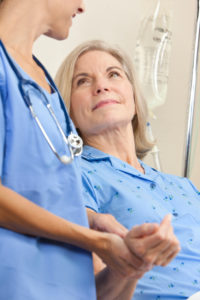 Adamant About Care
Hospital Sitters (also called "patient observers" or "hospital patient sitters") follow the direction of the nursing staff and call for assistance if problems arise. With hospital nurses averaging between 4-8 patients at a time, there may not be enough individual attention for patients that are feeling weak or experiencing delayed healing. Adultcare Assistance Hospital Sitters can help fill the gap in care and allow family members to return to work or attending to other family commitments. Although, hospital Sitters cannot aid or assist in patient care, our caregivers are adamant about patient care and will alert nurses and the family when needed.
Our caregivers serve a critical role in the hospital. Often the call button either is not pressed or the response is not fast enough. In these cases patients may attempt to get out of bed themselves which could result in a fall. Falls are common in the hospital because of the unfamiliar environment, changes in medications and dementia. Actually, ten percent of fatal falls to older adults occur in the hospital.  The presence of a Hospital Sitter can reduce the likelihood of a fall but will not prevent any fall from occurring.  In the event a fall does occur, the Hospital Sitter can take appropriate action and alert the hospital staff.
A Warm Heart
Having a caring person watching by a loved one's side can be therapeutic. As many stresses can be expressed, the hospital experience can become more secure. Additionally companionship makes a medical facility a less lonely place. The social benefits of our hospital sitters can assist in your loved one's recovery process.