Fall Prevention Program
Reduce the Chances of Injury
Older Adult Falls Are More Serious
1 in 3 seniors (65 and older) falls every year
2 million seniors are treated in hospitals for fall-related injuries every year
Hip fractures and brain injuries can impact the independence of older adults
At least one-third of falls involve environmental hazards in the home
Two-thirds of seniors who fell, will fall again within six months.
According to the Centers for Disease Control and Prevention, "Falls are not an inevitable part of aging. In fact, many falls can be prevented. Everyone can take actions to protect the older adults they care about." Adultcare Assistance Homecare recognizes the importance of fall prevention and has developed training, oversight and procedures to help reduce potential injuries. By taking these steps, the chance of falls is reduced, increasing senior safety in the home.
Solution: Elderly Fall Prevention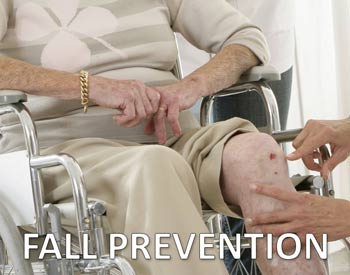 Step 1 – Needs Assessment & Home Inspection
Adultcare Assistance Homecare does a complimentary personalized need assessment and home inspection to ensure safety and reduced risk of repeat fall.
Home Inspection Includes:
Hygiene- Transfer Benches, Chairs, Hand Held Shower Head
Grab Bars- Properly installed in high risk areas
Transfers- Are we properly prepared?
Toileting- Procedures & proximity for ease of use
Entrances & Pathways – Getting In/Out, Reducing tripping hazards
Step 2 – Caregiver Training
A home health aide is carefully chosen based on our needs assessment with caring compassion. Adultcare Assistance managers provide training to caregivers for each client's needs.
Client Needs Can Include:
Assistance with exercise
Transfer Assistance
Communication with family
Step 3 – Caregiver Supervision / Monitor Progress
Once home, a formalized Plan of Care is developed and monitored via supervisory visits. This helps track compliance and progress via documentation to ensure we are providing the best services as promised!
The Fall Prevention Program at Adultcare Assistance Homecare may reduce the risk of an elderly fall. An elderly fall can still occur with clients under our care.