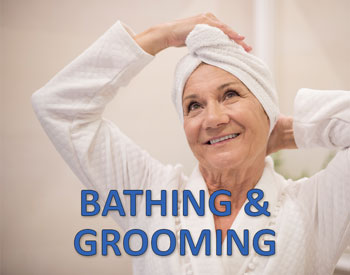 Bathing and grooming can be a very pleasant part of the day. After a bath or shower visit, seniors feel good, clean and relaxed. Additionally, the cleanliness of a shower visit makes our seniors feel better with more dignity.
Unfortunately, due to the multitude of unforgiving and slippery surfaces, bathrooms are very hazardous for seniors. More than one in three seniors over age 65 fall each year, and the National Institute on Aging says 80 percent of these falls are in the bathroom.  If you need a little help with bathing yourself or someone else, then consider having a professional caregiver from Adultcare Assistance Homecare come to your home for a elderly hygiene visit. They can make this job both easier and safer.
In addition to the shower visit, our caregivers can assist with personal hygiene.  Senior care grooming assistance can include shaving, mouth care, hair care and dressing.