In-Home Care Phoenix
The city of Phoenix is all about the sun. The Talking Stick Resort Arena at E Jefferson St and S 1st St is home to the Phoenix Suns basketball team, and while they haven't yet won an NBA championship, they will one day rise from the ashes to victory. In fall at the Arizona State Fair, Phoenix residents and visitors can stay up late into the warm nights and enjoy concerts, attractions, and much more. Down the road at E Van Buren Street is the Phoenix Zoo, where over 1200 animals relax in the sun at the largest non-profit zoo in the country. And if animals get a chance to go outside, your loved ones should too. That's why you should choose Adultcare Assistance Homecare for in-home care in Phoenix. Not only will we help them get outside, we'll drive them places too!
Our home care services include transportation
Living at home can be tough, especially for people who don't have driving privileges. We have a firm belief that living at home doesn't mean staying home. Our goal is to allow seniors to have the most independence as possible. That's why our home care in Phoenix includes transportation services. Whether our clients need a lift to get their prescription or want to take a trip to the Desert Botanical Garden, we'll make sure that everyone gets there safely. Using our caregivers for transportation instead of public transportation provides many benefits such as convenience, fall prevention, and driving with a trusted companion.
Our home health care is second to none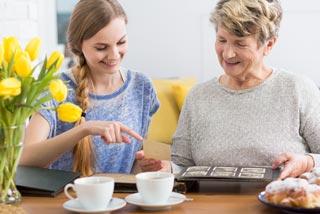 Some people need more help than others. That's why we don't use a one-size-fits-all approach. Instead, we take the specific needs of each individual and create a personalized plan of care. This includes home care services like light housekeeping and hygiene needs, but also working alongside home health care services with medical professionals that do medicine administration and wound care. So whether your loved one simply needs a companion or requires 24-hour care, call or contact us for the best caregivers in all of Phoenix!