Complete senior care right from your own home!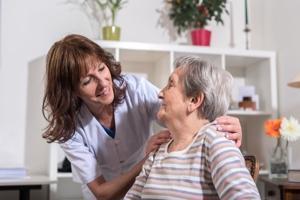 Coming to the conclusion that an aging family member that needs constant care is never an easy decision. As family, you know that most people want to keep their independence, and you want to do everything you can to make sure that happens. Not to mention that for most seniors, the comfort and safety of their own home just can't be beaten.
We want the golden years of our family members to be peaceful. We want them to be all they can be. It can seem that removing an element of independence might hinder that. But it may also seem that letting them live at home alone could be dangerous.
For those feeling like they need to choose between letting their loved ones live alone or putting them in a home, Adultcare Assistance Homecare provides another option. We are a home health care service that provides sensitive and thoughtful senior care straight to the home. Our trained caregivers come directly to you.
With us, seniors who have lived in the same house for decades don't have to uproot to get the quality care that they deserve.
Our caregivers are healthcare professionals
Certified nursing assistants ("CNAs") make some of the best caregivers for those coming into seniority. Because of their thorough training, CNAs are prepared to resolve any issues that come up. There are, of course, some instances where the expert advice of a doctor or other healthcare professional is mandatory. Things like medical procedures or wound care, or updating prescriptions, will all require doctors and nurses to carry out.
With Adultcare Assistance Homecare, this isn't a problem. Our caregivers work closely with medical personnel for home health clients so that your loved one is always close to everything they need. Physical therapy, mental health, dementia experts, may be necessary for care, and with us, access to these professionals is never far away.
We require the highest standard of training for our caregivers
While some places may only require that their caregivers have a CNA to get hired, we ask for more. All in-home care workers are thoroughly screened with only 1 in 50 applicants being selected to work on our team. What this means for you is that you're only getting the best of the best when you choose us for home care.
We make things easy for your loved ones
We don't want you to worry about things like communication issues or complex contracts just to get the level of care you expect. Here's what we do to make things easier:
Help is available 24 hours per day Our 24-hour dispatch is available at all times. Staff supervisors are there when you need them, no matter what. Whether you need help with something small or you've got an emergency, we'll make sure you're in touch with the right person.
Straightforward agreements We make sure all of our agreements with you are written in plain-spoken English and we never force long-term commitments to receive our services. Whether it's a single visit or on-going care; we know that you'll love the level of service we provide.
Care plans tailored to your loved one All of the care we deliver is customized for your loves one's specific situation. We don't believe in the one-size-fits-all approach and feel that good care is only possible through personalized attention. We'll sit down with you and your love to come up with a plan that is as detailed as possible and always unqiue.
---
Choose us for the best Senior Care in Tucson
Our staff always puts you and your family first!
WHY CHOOSE ADULTCARE ASSISTANCE HOMECARE?
VOTED "BEST OF ARIZONA" FOR 11 YEARS
Adultcare Assistance Homecare is trusted by Arizona. Prestigious recognition have included Business of the Year, Arizona Mature Workers Certification, Active Adult 50+ Program Award, A+ Better Business Bureau, and voted "Best of AZ" for 11 Years by Ranking Arizona.
PERSONALIZED CARE PLAN
Schedules and services are flexibly designed based on your home care needs. Clients can request caregivers by the day or as needed. Popular requests include 24 hour care, nights/weekends only and transportation to medical offices. Adultcare Assistance Homecare is happy to personalize your care to meet your needs.
CARE SUPERVISOR ON CALL 24/7
The senior care directors at Adultcare Assistance Homecare reduce family pressure by efficiently managing home care needs. The senior care management team is available 24 hours a day, 7 days a week to ensure clients are not left unattended, assist in sudden changes in care needs and provide family status updates.
LOCALLY OWNED, ARIZONA FOCUSED (NOT A FRANCHISE)
National franchises have a different agenda than our locally owned, Arizona focused company. Adultcare Assistance Homecare partners with several Arizona senior organizations because we trust them and they trust us. Arizona does NOT regulate home care and many have difficultly understanding the impact on their family. Our owner, Krystal Wilkinson, is passionate about local home care and was recently selected as the President of the Arizona Chapter of the Home Care Association of America.
NO LONG-TERM CONTRACTS
You can easily try our caregivers for a few hours and know the difference we make with no long-term commitments. Adultcare Assistance Homecare makes it easy to cancel home care services if you are not 100% satisfied.