Compassionate Senior Care For Sun City West
It's never easy to decide that an aging family member needs care beyond what you can provide. Everyone wants to maintain their independence, and most seniors feel safe, comfortable, and capable in their own homes. You may feel stuck between two tough choices: Let your loved one live alone, or send them off to a facility.
For families in Sun City West, Adultcare Assistance Homecare is another option. With us, you'll rest easy knowing your family member is safe in his or her own home, and given the level of independence they deserve.
With us, our caregivers come to you and provide care without disruption to life or routine. We make sure your loved ones continue to enjoy their home just as they have for decades.
Our caregivers are real healthcare professionals
Our healthcare professionals consist of highly-trained Certified Nursing Assistants (CNAs) who have been carefully screened. We've found that between their technical nursing skills and a strict vetting process, our CNAs are the most sensitive and well-meaning professionals in the industry.
While a competent CNA can solve most issues as they arise, sometimes the situation calls for the expert advice of a doctor or other healthcare professional. Medical procedures, wound care, updating prescriptions will all require utilizing a doctor or nurse.
That may pose a problem with some home care providers, but with us, that's not a problem. Adultcare Assistance Homecare maintains strong relationships with medical experts to make sure your loved one has everything they need. Our network includes physical therapists, and mental health and dementia experts. We make sure that everyone we take care of always has access to the professionals.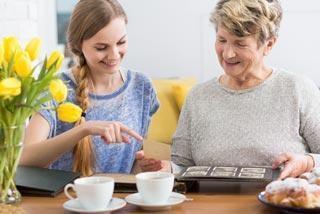 The Highest Standard of Caregiving
Adultcare Assistance Homecare requires more than just a CNA training to be hired. While we expect all of the practical skills, we ask for more from our caregivers.
All applicants are extensively screened; so much so that only 1 in 50 are selected.
We are firmly committed to providing the highest level of care for you or your loved one, and with our selection process, we know we can stand by that claim.
In-Home Care Made Easy
We don't want you to worry about avoidable communication issues or lengthy contracts for essential care. And with us, you don't have to.
We are on call 24 hours per day We are available at all times. Whether it's a minor issue or an emergency, we are available at all times. Our supervisors are always there when you need them, and we make sure you can always get in touch with the right person.
Straightforward agreements We don't force anyone into a contract that commits them to uncertainty. We make our services easy to understand, and easy to receive.
Personalized care plans  Schedule one visit or multiple; we even have a 24-hour option for seniors that need constant care. It's important that your plan is tailormade to you. We'll work with you on every detail, or keep it as broad as necessary. We'll never force you into being stuck with a generic plan that doesn't work for you.
---
Choose us for the best Senior Care in Sun City West
Our staff always puts you and your family first!