Quality Senior Care Phoenix in Your Own Home!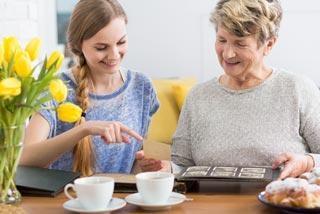 It's difficult when you have an aging loved one that needs assistance or even constant care. Most people want to keep their independence, and many seniors feel safe and comfortable in their own homes. It might seem the only choices are to put them in a senior living facility, or to let them live at home alone–which could be dangerous–or to send them away to a facility.
Fortunately, there is another option. Adultcare Assistance Homecare is a home health care service that provides senior care in the home. Our caregivers come to you, meaning that seniors who have lived in their homes for decades don't have to leave and can still get the quality senior care Phoenix that they deserve.
Our caregivers work with healthcare professionals
CNAs make fantastic caregivers and the competent ones are able to solve many issues that come up on their own. However, sometimes the expert advice of a doctor or other healthcare professional is required. Medical procedures, wound care, and updating prescriptions, for instance, require the expertise and skills of doctors and nurses.
However, with us, this isn't a problem. Caregivers work closely with these experts for home health clients so that your loved one has everything they need. Physical therapy, mental health, dementia experts, and more can sometimes be needed for proper care, and we make sure that the senior has access to these professionals as needed.
We require the highest standards for our caregivers

Some agencies only require that their caregivers have a CNA to get hired. But we ask for more with our in-home care workers.  Applicants are thoroughly screened; enough so that only 1 in 50 are chosen. This means that you're getting the best of the best when you choose us for home care for your senior.
Our senior care makes things easy
You shouldn't have to worry about communication issues or complex contracts just to get the care that your loved one needs. And with us, you don't have to.
We have a 24-hour call line available at all times. Supervisors are always there when you need them, and whether you have a small issue or an emergency, we'll get you in touch with the right person.
Our agreements are simple, and we don't force you into a long-term contract to receive our services. Schedule one visit or multiple; we even have a 24-hour option for seniors that need constant care.
Your care plan will be unique to your loved one. It's important that your plan of care is personalized, and we believe in being as detailed as possible instead of creating generic plans and forcing people to fit into them.
---
Choose us for the best Senior Care in Phoenix
Our staff always puts you and your family first!