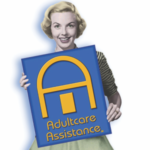 Website Adultcare Assistance Homecare
Be Independent Without Being Alone
About the Night Shift Jobs in Tucson: 
Established in 1996, Adultcare Assistance has set the gold standard of what thoughtful planning, client interaction, and home care delivery should be. Our success has led to a rapid growth period where we need to fill multiple positions, including night shift jobs.  
A night shift caregiver serves a watchful eye and will address needs that arise overnight. This is a unique position in that patients are typically asleep for most of the shift. But in moments of need, a night shift caregiver can be a hero to their patients. We aim to hire candidates that are passionate about caring for others and will develop strong bonds with the patients they serve. 
Typical night shifts are 12 hours, with some flexibility in start and end times depending on the client. For many caregivers, this is an ideal schedule because it allows for three shifts per week with four days off.  
Our night shift jobs impact others' lives in a special way that very people will. We create personalized care plans for each of our clients so that all of their needs are met, they feel safe at home, and their families have peace of mind their loved ones are being well cared for. 
Because we have such a huge demand for night shift jobs in Tucson, we are looking to add to our team immediately. Read on to learn more about what our positions entail and how you can apply for a night shift role: 
Job Responsibilities 
Some of the responsibilities of our night shift jobs may include: 
MAINTAIN INDEPENDENCE
Ensure clients do not wander outside their home at night

Help 

seniors use the bathroom in the middle of the night.

Prevent bed sores with scheduled turning of seniors while they sleep.

 
RESTORE DIGNITY
Assist with transfers in and out of bed

Incontinence care management to avoid embarrassment

 

Light housekeeping to start each day in a clean environment
KEEP HEALTHY
Maintain vitality through meal preparation

possible mid-night snacks

Avoid hospital readmissions with medication reminders

 

Keep seniors out of danger with memory care safety

 
SUPPORT OTHERS
Assist with physical therapy exercises

 

Be the eyes and ears during the night for a restful sleep

Report changes in condition through shift report or call to on-call manager
Job Requirements
Adultcare Assistance provides paid training for all of our caregiving roles in the Tucson area. In addition to completing initial and ongoing training, ideal candidates will satisfy the following requirements: 
HEART FOR SENIORS: 
Have a genuine desire to work with seniors

 
ABILITY TO WORK: 
4-hour 

to 

12-hour shifts in the 

Tucson

 area

 

Optional overtime often available

 
SENIOR SAFETY: 
Pass a criminal background check

 

Pass 

drug 

screening 

test

 

Negative 

TB test

 
TRANSPORTATION: 
Reliable Car

 

Proof of 

auto insurance

 

Valid Driver's License

 
Benefits for All Employees
We're proud to offer an attractive benefits package to all of our night shift jobs in Tucson, including: 
COMPETITIVE PAY 
One of the highest starting wages for night shift jobs

Tucson

 

Signing bonus

 

Unlike some caregiving jobs in 

Tucson

, we DO pay the employers portion of employment taxes.

 
MERIT BASED RAISES
90-day review

 

Bi-annual reviews

 
REFERRAL PROGRAM
$750 bonus for 3 caregiver referrals 

 

$250 bonus for each caregiver jobs referral

 

PAID TIME OFF (PTO)

 
DEVELOPMENT and CAREER GROWTH
Paid Welcome Aboard Training

 

Paid Training

 

Several employees have been promoted from their 

Tucson

 caregiver jobs to other positions within the organization.

 

Company gatherings and team building events

 

Caregiver roundtable discussions for improving our company

 

NO PAPERWORK or SIGNATURES

 

Smartphone time tracking app

 

MANAGER ON-CALL for all night shifts 

Get 

help with middle of the night emergencies or questions

 
How to Apply for Night Shift Jobs in Tucson
If you're ready for a fulfilling career in caring for seniors, we invite you to apply for one of our night shift jobs.  Click APPLY NOW below to submit your application.
About Us
Adultcare Assistance is the leading provider of in-home senior care services in Arizona. We've been voted the #1 caregiving service by Ranking Arizona Magazine, and we take that commitment to our communities seriously.  
We provide medical and non-medical services to our clients, including recovery from hospitalization or surgery, help with daily living activities, and memory care. Because of services offered by Adultcare Assistance, more seniors are able to stay in their homes instead of being transferred to nursing homes or assisted living facilities. Our goal is to work with patients on a short- and long-term basis and help them to continue living independently with confidence. 
Throughout the past 24 years of business and counting, our team has earned numerous awards for our service and excellence. We've grown our reputation by taking care of clients like family and investing in training and professional development for all of our caregivers. If you're ready to join a dynamic team that cares about your success, we invite you to apply for one of our night shift jobs and embark on a rewarding career! 
"Please appl