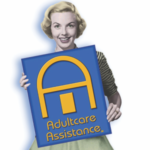 Website Adultcare Assistance Homecare
Be Independent Without Being Alone
About the Weekend Jobs in Phoenix: 
We're Adultcare Assistance, one of the largest providers of in-home senior care in Phoenix, Arizona.  
We're committed to taking care of every client as though they were our own family, helping with everything from daily tasks to personal care. Our positive reputation in the communities we serve and a growing market demand have led to the need to fill multiple weekend jobs.   
As more Baby Boomers enter retirement, elderly services like the ones we provide will continue to be in great demand, with an expected growth of more than 6% within the next year. The COVID pandemic has also spurred a need for personalized care at home as more families seek alternatives to nursing homes and assisted living facilities. This means greater job security for our caregivers — there's never been a more perfect time to start on a caregiving career path! 
Our weekend caregivers provide a critical service to our patients, offering help with everything from daily tasks to personal care. If you are passionate about serving others and are seeking a career with growth opportunities and stability, read on to learn more about our weekend jobs in Phoenix.
Phoenix weekend caregivers often help with home care in the surrounding cities including Scottsdale, Paradise Valley, Biltmore, Arcadia and Glendale. 
Job Responsibilities 
Weekend caregivers can expect to perform any of the following duties: 
MAINTAIN INDEPENDENCE
Drive seniors to 

appointment

s, meetings, and church services.

 

Help seniors 

with their weekend

 shopping

.

 

Go to lunch or grab an ice cream with your client

.

 
RESTORE DIGNITY
Keep your client beautiful assisting with bathing and grooming

 

Incontinence care management to avoid embarrassment

 

Light housekeeping to reduce stress at home

 
KEEP HEALTHY
Maintain vitality through meal preparation

 

Avoid hospital readmissions with medication reminders

 

Keep seniors out of danger with memory care safety

 
SUPPORT OTHERS
Assist with physical therapy exercises

 

Be the eyes and ears for hospice care

 

Report changes in condition
Job Requirements
Adultcare Assistance provides initial and ongoing job training for all of our weekend caregivers. In addition to our training program, successful candidates will meet the following requirements: 
HEART FOR SENIORS: 
Have a genuine desire to work with seniors

 
ABILITY TO WORK: 
Typically 8 or

12-hour weekend shifts in the Phoenix

 area

 

Optional overtime often available

 
SENIOR SAFETY: 
Pass a criminal background check

 

Pass 

drug 

screening 

test

 

Negative 

TB test

 
TRANSPORTATION: 
Reliable Car

 

Proof of 

auto insurance

 

Valid Driver's License

 
Benefits for All Employees
In addition to the personal fulfillment that comes with being a caregiver, all of our weekend jobs in Phoenix are eligible for the following perks and benefits: 
COMPETITIVE PAY 
One of the highest starting wages for weekend caregiving  jobs in Phoenix

Signing bonus

 

Unlike some weekend jobs in Phoenix

, we DO pay the employers portion of employment taxes.

 
MERIT BASED RAISES
90-day review

 

Bi-annual reviews

 
REFERRAL PROGRAM
$750 bonus for 3 caregiver referrals 

 

$250 bonus for each caregiver jobs referral

 

PAID TIME OFF (PTO)

 
DEVELOPMENT and CAREER GROWTH
Paid Welcome Aboard Training

 

Paid Training

 

Several employees have been promoted from their Phoenix based

caregiver jobs to other positions within the organization.

 

Company gatherings and team building events

 

Caregiver roundtable discussions for improving our company

 

NO PAPERWORK or SIGNATURES

 

Smartphone time tracking app

 

MANAGER ON-CALL for all weekend shifts 

Have support from our staff for all weekend

emergencies or questions

 
How to Apply for Weekend Jobs Phoenix
If it sounds like we'll be a good fit for each other, we invite you to apply for one of our weekend jobs.  Additionally, to better fit your schedule we do allow weekend caregiver applicants to provide a video introduction over the weekend instead of a phone screening interview during office hours.  Click the Apply for Job button below to submit your application. 
About Us
Adultcare Assistance has been providing high-caliber in-home senior care in Arizona for more than 24 years and growing. During that time, we've been voted as the #1 choice for in-home care by Ranking Arizona Magazine, a distinction that continues to serve our clients and families and attract the most qualified talent. We've also earned numerous other achievements and awards in our industry, including "Best Home Care Provider of Choice", "Mature Worker Friendly Certified Award", "Active Adult 50+ Program Award," and many community program awards.   
Our company demonstrates its excellence in the quality of care we provide, the caliber of employees we hire, our extensive training programs, and the attention to detail that goes into planning every client's care. We work hard to match each client and caregiver to ensure the best relationships are formed and all needs are met. We're also locally owned and operated here in Arizona (not a franchise) so that we can maintain our family-focused reputation among our clients, friends, and neighbors. 
If you're interested in joining a winning team that's making a difference for families in Arizona, we invite you to apply for one of our weekend jobs in the Phoenix area.  
"Please apply now, there are so many seniors that truly need a supportive weekend caregiver in Phoenix"