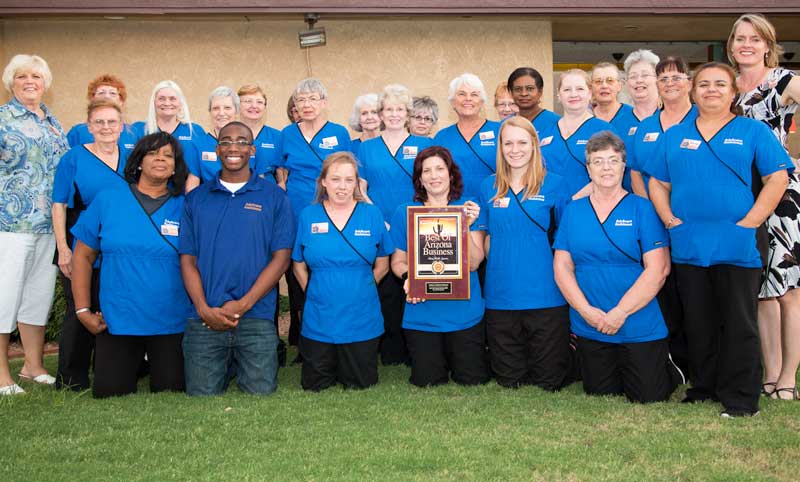 ---
Finding the Right Caregivers in Sun City West, Arizona Doesn't Need to be Complicated
Deciding on the right home health care service is the first and most important step. How to evaluate different companies is a big question because the state of Arizona does not license caregivers or caregiver companies.
Some companies claim to be licensed, but this can be confusing to seniors since these companies are referring to a business license, not a home care license.
Because of this, it is important that you know the differences between your various options and how those differences can impact your level of care.
---
Step 1 – Choose the Right Company
Some questions that you may want to ask to discover the right company include:
1. How long have you been in business in Arizona? Established in 1996. See Our Story.
2. What are your caregiver standards? Caregiver Standards
3. How often to you have in-person caregiver training (not web-based)? Adultcare Assistance – Monthly Training
4. Are 100% of your caregivers employees of your company? Frequently Asked Questions
5. What is your company's reputation in the community? Voted "Best of Arizona – Home Health" – Eight Years
---
Step 2 – Choose the Right Caregiver
Finding the right caregiver can be simplified with the following:
1. Determine your in-home care needs. On-Line Homecare Assessment
2. Does the caregiver have the training/knowledge for your needs? Specific training such as Alzheimer's Disease.
3. Do you and the caregiver enjoy each other? Does your caregiver make life more enjoyable?
We hope that this guidance will help you find the perfect caregiver for your care needs. Adultcare Assistance Homecare has been voted the "Best of Arizona – Home Health" for eight years because of the commitment of our caregivers and the appreciation of our clients.
Please Call Today (623) 977-2223